[ad_1]

Blake Masters, a Republican candidate working for US Senate from Arizona, certain hopes his endorsement from Donald Trump will get him the votes he must oust the Democratic incumbent, Sen. Mark Kelly. Masters, president of Wealthy Fuckwad Peter Thiel's basis, obtained the possibility Saturday to indicate off simply how completely he embodies the Trump Ethos when he was captured on video shoving a 73-year-old protester to the bottom in an altercation at a GOP occasion within the Tucson exurb of Inexperienced Valley, Arizona.
To make sure, the protester, Peter Jackson (most likely no relation to the Star Wars In Center Earth director, who's solely 60), went to the occasion with the intention of peacefully making a scene, and good for him. He was sporting a Black Lives Matter T-shirt and a "Jail Trump" hat, in addition to an N-95 masks and a button saying "Totally vaxed," so sure, he was in full trolling mode, and recording his go to with a cellphone in a single hand and a GoPro digicam within the different.
---
As will occur when harmful radical troublemakers present up at a Republican occasion today, members of the celebration that advocates tirelessly at no cost speech and in opposition to cancel tradition all grudgingly put up along with his presence, as a result of in spite of everything, it might be hypocritical to eject him only for sporting a message they disagree with.
Haha, we're mendacity in fact! They obtained in his face, known as him a child killer, and ultimately one girl hauled off and punched him. He blocked her subsequent punch, after which Masters got here out of nowhere and knocked Jackson proper on the bottom for being a communist Black Lives lover, or, as Masters insists, for "hitting" the girl whose second punch he deflected.
Oh look here is the video Jackson recorded. It will get fairly shaky at moments, what with the great Actual Individuals slapping and jostling and grabbing for Jackson's cameras (in self protection; he was attempting to terrorist them), however you get a fairly good sense of how issues escalated from "Sir I am asking you to go away" to THUD and Jackson being dragged exterior.
Dan Shearer of the Tucson Sentinel weblog interviewed Jackson, who stated he considers as we speak's GOP so much like Nineteen Thirties Germany, which could clarify how he obtained the Munich Beer Corridor therapy at their little gathering.
"I went in hoping to be allowed to witness the occasion and hearken to the candidates and presumably share the video I used to be clearly taking," he stated. "Submit-event, I would really like individuals to see that they don't seem to be rational individuals. They're actually violent individuals. They're individuals Individuals must be involved about."
For causes we won't discern, Shearer calls that "hyperbole."
After Jackson refused to go away, various individuals known as 911, and one good woman shoved her telephone in his face to provide Jackson a style of his video recording drugs. Shearer narrates what comes subsequent, and it matches what you see within the video; the screenshots beneath are Shearer's, from Jackson's video: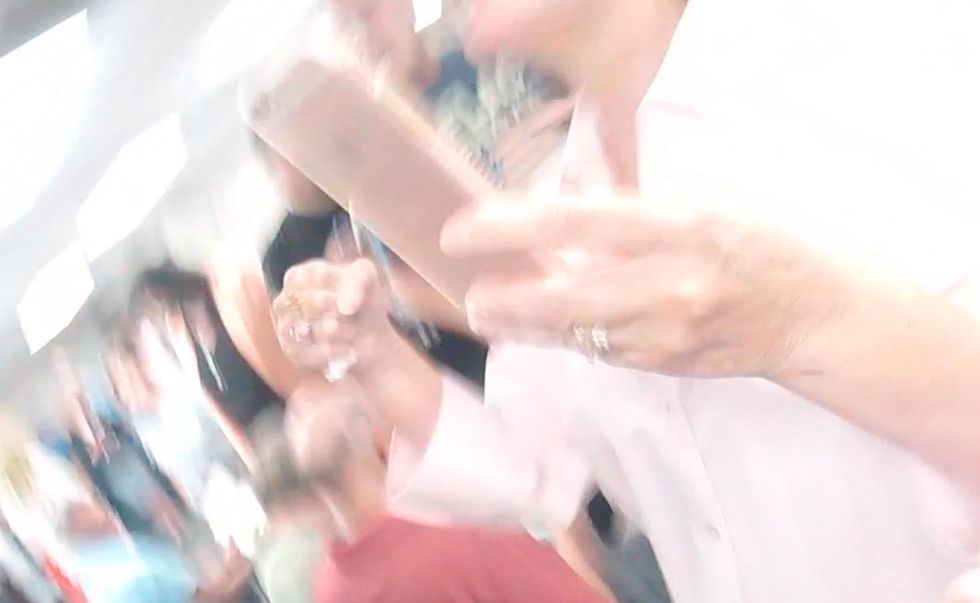 At one level, and simply inches from his face, the girl reached out and shoved him within the facet. Then she balled up her fist and delivered a proper hook that snapped Jackson's head again. […]

[The] video began getting a bit wobbly. Nevertheless it's clear sufficient to see that [Jackson] put out his hand and pushed hers away. He didn't strike her, in keeping with the video I noticed. It was clearly a transfer to guard himself.

Then out of nowhere comes Blake Masters, a U.S. Senate candidate who'd been glad-handing within the background.

Masters lunged at Jackson, put each palms round his neck and pushed him backward.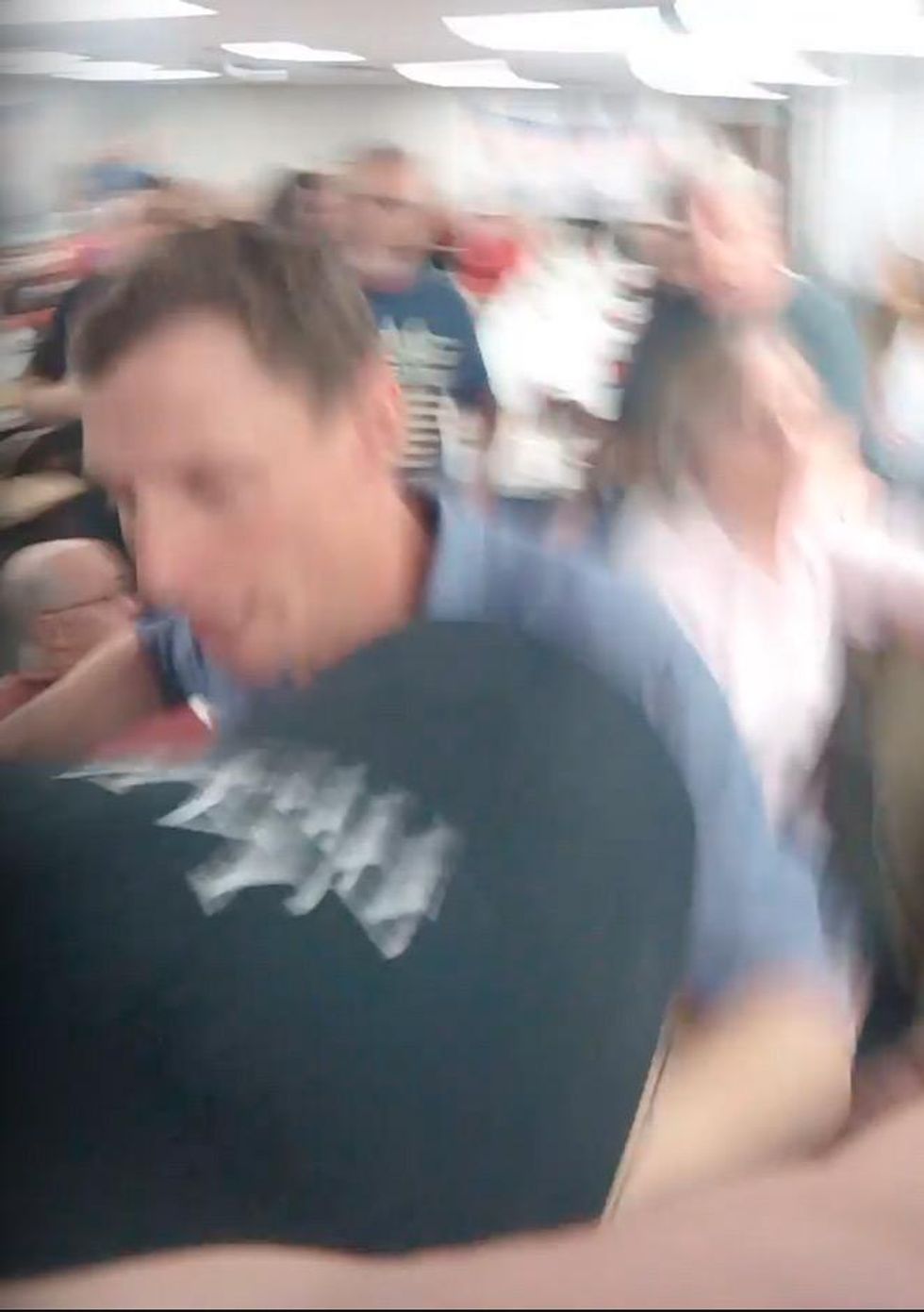 Jackson falls down, after assaulting Masters's palms along with his neck there, and is bodily dragged out of the constructing by a number of guys, whereas the loudest man within the room — who'd been calling Jackson a child killer and saying Jackson was "harassing all people" simply by being there — went on to accuse Jackson of assaulting the girl whose fist he deflected. "He attacked a lady! That is what he is doing! He is attacking girls, similar to they assault harmless youngsters!"
It is all very like Rashomon, a minimum of if Kurosawa had shot the film in a single take and Toshiro Mifune had been a fats loudmouth with a cane. Darned if we will bear in mind what that film's about.
Ultimately, Pima County Sheriff's deputies confirmed up and arrested the assailant: Jackson, as a result of all of the Republicans agreed he'd attacked the pink telephone woman. Along with one rely of straightforward assault, Jackson additionally caught a trespassing cost. His preliminary courtroom date is July 1, assuming the fees aren't dropped first in mild of the video.
When Shearer requested the Masters marketing campaign concerning the video that "exhibits their candidate along with his palms round an outdated man's neck," he acquired a press release explaining, as if Masters had written it,
A left-wing activist got here to a Republican occasion, began harassing individuals, after which hit a lady. I intervened and put an finish to that. He was subsequently detained by the police and cited for assault. Let me be clear: if you happen to come to an occasion I am at and assault a lady, it is going to be a foul day for you.
Gosh, he is robust, intervening to guard a damsel from that imply man twice his age! And it was actually impolite of Jackson to not let the damsel attempt to punch him within the face a second time. Masters additionally memorialized his heroism in a tweet displaying him regaling a crowd with the story of how violent leftists who assault girls will get what's coming to them.
Oh, sure, additionally on Wednesday CNN reported that an audio recording has emerged of Masters telling rightwing activists at an IHOP in Phoenix earlier this 12 months all about how he thinks the FBI secretly did January 6 as a false flag operation to make Trump supporters look loopy and violent, as in the event that they wanted assist with that.
"Don't we suspect that like one-third of the individuals exterior of the Capitol complicated on January 6 had been precise FBI brokers hanging out," Masters requested on the GrassRoots Tea Celebration Activists of Arizona occasion. "What did individuals know and when did they comprehend it? We obtained to resolve this."
You would possibly suppose that, plus the casual racism, plus the video displaying him assaulting an outdated man, can be the kind of issues that may disqualify Masters from any chance of being elected to the Senate.
Heck, from what we have seen of Masters, he would possibly even agree: They make him look downright presidential as an alternative.
[Tucson Sentinel / CNN]
Yr Wonkette is funded totally by reader donations. Should you can, please assist us hold you atop all of the insanity with a month-to-month $5 or $10 donation. Additionally, please cease hitting me. That hurts.
window.REBELMOUSE_ACTIVE_TASKS_QUEUE.push(function(){
!function(f,b,e,v,n,t,s) {if(f.fbq)return;n=f.fbq=function(){n.callMethod? n.callMethod.apply(n,arguments):n.queue.push(arguments)}; if(!f._fbq)f._fbq=n;n.push=n;n.loaded=!0;n.version='2.0'; n.queue=[];t=b.createElement(e);t.async=!0; t.src=v;s=b.getElementsByTagName(e)[0]; s.parentNode.insertBefore(t,s)}(window, document,'script', 'https://connect.facebook.net/en_US/fbevents.js'); fbq('init', '482172895483293'); fbq('track', 'PageView');
});
window.REBELMOUSE_ACTIVE_TASKS_QUEUE.push(function(){
/*! getClosest.js | (c) 2017 Chris Ferdinandi | MIT License | http://github.com/cferdinandi/getClosest */ /** * Get the closest parent element that matches a selector. * @param {Element} elem Starting element * @param {String} selector Selector to match against * @return Element Returns null if not match found */ var getClosest = function(elem, selector) {
// Element.matches() polyfill if (!Element.prototype.matches) { Element.prototype.matches = Element.prototype.matchesSelector || Element.prototype.mozMatchesSelector || Element.prototype.msMatchesSelector || Element.prototype.oMatchesSelector || Element.prototype.webkitMatchesSelector || function(s) { var matches = (this.document || this.ownerDocument).querySelectorAll(s), i = matches.length; while (--i >= 0 && matches.item(i) !== this) {} return i > -1; }; }
// Get closest match for (; elem && elem !== document; elem = elem.parentNode) { if (elem.matches(selector)) return elem; }
return null;
};
// Vanilla JS
var className="active";
// getting current URL and adding a class on the current menu item
var path = location.pathname.split("https://www.wonkette.com/")[1]; var link = document.querySelectorAll('.menubar a[href="https://www.wonkette.com/" + path + '"]'); if (link[0]) { if (link[0].classList) { link[0].classList.add(className); } else { link[0].className += ' ' + className; } }
// remove class from home-link var home = document.getElementsByClassName('home__item'); if (home[0]) { if (home[0].classList) { home[0].classList.remove(className); } else ') + '(b }
// search the closest parent and adding an active class on it too
var closestParent = getClosest(link[0], '.menubar_item-dropdown');
if (closestParent) { if (closestParent.classList) { closestParent.classList.add(className);
} else { closestParent.className += ' ' + className; } }
var socials = document.getElementsByClassName('social-links')[0]; var cloneSocials = socials.cloneNode(true);
var menu = document.getElementById("menubar"); var cloneMenu = menu.cloneNode(true);
var mobileMenu = document.getElementsByClassName('main-menu-wrapper')[0]; var beforeEl = document.getElementsByClassName('menu-global__search-form')[0];
mobileMenu.insertBefore(cloneSocials, beforeEl); mobileMenu.insertBefore(cloneMenu, beforeEl);
if (!document.body.classList.contains('logged-out-user')) { var existCondition = setInterval(function() { var userLink = document.querySelectorAll('.main-menu-item--my_page .link'); if (userLink.length) { clearInterval(existCondition); var membersLink = document.querySelectorAll('#membersLink'); var userUrl = userLink[0].href; Array.prototype.forEach.call(membersLink, function(el) { el.href = userUrl; });
if (document.querySelector('.main-menu-item--designer_editor')) { document.querySelector('.main-menu-wrapper').classList.add('user-admin'); } } }, 500); } else { var existCondition = setInterval(function() { var userLink = document.querySelector('.main-menu-item--login .link'); if (userLink) { clearInterval(existCondition); userLink.href="http://www.wonkette.com/core/users/email_login/"; } }, 500)
}
function copyValue(el) { var thisVal = el.options[el.selectedIndex].text; var closestForm = getClosest(el, 'form'); var paypalAmount = closestForm.nextSibling.querySelector('.paypal-amount'); paypalAmount.value = thisVal; }
document.addEventListener("scroll", createIdleScrollListener(() => { if (window.scrollY > 0) { document.body.classList.add('page-scrolled'); } else { document.body.classList.remove('page-scrolled'); } }));
function createIdleScrollListener(callback) { let ticking = false;
return function onScrollIdle() { if (ticking) { return; } ticking = true; requestAnimationFrame(() => { callback(); ticking = false; }); }; }
});
window.REBELMOUSE_ACTIVE_TASKS_QUEUE.push(function(){
window.addEventListener("scroll", () => { if(this.scrollY > 50 ) { document.querySelector(".rebelbar.rebelbar--fixed.skin-simple").style.display = 'none' } else document.querySelector(".rebelbar.rebelbar--fixed.skin-simple").style.display = 'block' });
});
window.REBELMOUSE_ACTIVE_TASKS_QUEUE.push(function(){
window.REBELMOUSE_STDLIB.loadExternalScript("https://checkout.stripe.com/checkout.js", function() {
if (!Element.prototype.matches) Element.prototype.matches = Element.prototype.msMatchesSelector || Element.prototype.webkitMatchesSelector;
if (!Element.prototype.closest) Element.prototype.closest = function(s) { var el = this; if (!document.documentElement.contains(el)) return null; do while (el !== null && el.nodeType === 1); return null; };
function formsHandling() { var formDonate = document.querySelectorAll('.donation-form:not(.processed)');
formDonate.forEach(function(formEl) { var formEl = formEl;
formEl.classList.add("processed");
formEl.addEventListener("submit", function(event) { event.preventDefault(); });
var donationBtns = formEl.querySelectorAll('.donate-button');
donationBtns.forEach(function(el) { el.addEventListener("click", function(event) { event.preventDefault(); formProcessing(el) }); });
function formProcessing(el) { var btn = el; var payment = btn.getAttribute('data-payment'); var planType = formEl.querySelector('input[name="plan_type"]:checked').value; var checkedOption = formEl.querySelector('input[name="amount"]:checked'); var amount = checkedOption.value * 1; var amountOptional = checkedOption.getAttribute('data-amount'); var dataValue = checkedOption.getAttribute('data-value'); var action;
if ( formEl.contains(formEl.querySelector('.remove-me')) ) { formEl.querySelectorAll('.remove-me').forEach(function(el){ el.remove() }); }
if ( payment == "paypal" ) { formEl.action = "https://www.paypal.com/cgi-bin/webscr"; formEl.setAttribute('target', '_blank');
addHidden( 'currency_code', 'USD'); addHidden( 'cmd', ''); addHidden( 'return', "https://www.wonkette.com/st/Wonkettes_Hero"); addHidden( 'cancel_return', window.location.href);
if ( planType == "once" ) { checkedOption.value = dataValue; formEl.querySelector('input[name="cmd"]').value="_donations"; addHidden( 'business', 'rebecca@wonkette.com'); addHidden( 'item_name', 'Wonkette Donation'); addHidden( 'item_number', 'Just Once');
//add new params addHidden( 'a3', dataValue); addHidden( 'p3', 1); addHidden( 't3', 'D');
} else if ( planType == "monthly" ) { formEl.querySelector('input[name="cmd"]').value="_xclick-subscriptions"; addHidden( 'business', 'rebecca@wonkette.com'); addHidden( 'item_name', 'Wonkette Recurring Donation'); addHidden( 'item_number', 'wonkette_recurring');
//add new params addHidden( 'a3', dataValue); addHidden( 'p3', 1); addHidden( 't3', 'M'); addHidden( 'src', 1); addHidden( 'srt', 52); } formEl.submit(); } else if ( payment == "strip" ) { addHidden( 'entity_type', 1); addHidden( 'plan_type', 1); addHidden('entity_id', getSiteId() ); checkedOption.value = dataValue * 100;
if ( planType == "once" ) { formEl.action = "/core/payment/single_donation"; addHidden( 'plan_name', 'One Time Donation'); stripInit(amount, 'One Time Donation');
} else if ( planType == "monthly" ) { formEl.action = "/core/payment/recurring_donation"; addHidden( 'plan_name', 'Monthly Donation'); addHidden( 'plan', 'donation_' + amount); stripInit(amount, 'Monthly Donation'); }
}
} function addHidden(key, value) { // Create a hidden input element, and append it to the form: var input = document.createElement('input'); input.type="hidden"; input.name = key; input.value = value; input.className += 'remove-me'; formEl.appendChild(input); }
function stripInit(amount, description) { var token = function(res){ addHidden('stripeToken', res.id); addHidden('stripeEmail', res.email); formEl.submit(); };
if (amount) { StripeCheckout.open({ key: 'pk_live_7dJjNGbMgTkHfEasr9FsLcjF', // real //key: 'pk_test_zbMpaIyMyHJ7TLUEheC7q2iS', //test amount: amount, name: 'Wonkette', image: 'https://assets.rbl.ms/16950638/origin.png', description: description, panelLabel: 'Donate', token: token, locale: 'auto' }); } else { window.alert('Select donation amount first') } } });
function getSiteId() { var site_id = null; var inner = document.querySelector('html').innerHTML var str = inner.split('"site_id": '); if( str[1] != undefined ){ site_id = str[1].split(',')[0]; } return !isNaN(site_id) ? site_id : false; } }
formsHandling();
REBELMOUSE_STDLIB.createElementChangeListener(".show-more.js-expand:not(.processed)", (el) => { const keepReading = el; keepReading.classList.add("processed"); keepReading.addEventListener("click", function() { setTimeout(formsHandling, 500) }); });
});
});
window.REBELMOUSE_ACTIVE_TASKS_QUEUE.push(function(){
window.disqus_config = function () { this.page.identifier = "2657483949", this.page.url = "https://www.wonkette.com/blake-masters-jumps-out-of-nowhere-and-just-starts-whaling-on-this-one-old-guy"; }; var disqusCt = document.createElement('div'), disqus_config; disqusCt.id = 'disqus_thread'; (function () )();
function loadCountScript(callback) { var s = document.createElement('script'); s.type="text/javascript"; s.async = true; s.id = 'dsq-count-scr'; s.src = "//wonkettecom.disqus.com/count.js"; var x = document.getElementsByTagName('script')[0]; x.parentNode.insertBefore(s, x); s.onload = () => callback(s); document.head.append(s); } loadCountScript(script => { /*Add comment Button to all articles*/ REBELMOUSE_STDLIB.createElementChangeListener(".share-panel:not(.js--has-comments)", (el) => { let sharesPanel = el; sharesPanel.classList.add('js--has-comments'); if (sharesPanel.closest('.article__shares')) { let postId = window.REBELMOUSE_BOOTSTRAP_DATA.post.id, postURL = location.protocol + '//' + location.host + location.pathname; addButton(postURL, postId, sharesPanel); } else if (sharesPanel.closest('.widget')) { let thisPost = sharesPanel.closest('.widget'), postId = thisPost.getAttribute('elid'), postURL = thisPost.querySelector('.widget__headline-text').getAttribute('href'); addButton(postURL, postId, sharesPanel); } }); });
function addButton(url, id, el) { var commentBtn = document.createElement('span'); //commentBtn.href = url; commentBtn.classList.add('js--toggleDisqus'); commentBtn.classList.add('disqus-comment-count'); commentBtn.setAttribute('data-disqus-url', url); commentBtn.setAttribute('data-postid', id); //commentBtn.setAttribute('data-disqus-identifier', id); commentBtn.innerText="0"; el.append(commentBtn); DISQUSWIDGETS.getCount({ reset: true }); //console.log(url, id); } REBELMOUSE_STDLIB.createElementChangeListener(".js--toggleDisqus:not(.js--callDisqus-processed), .show-more:not(.js--callDisqus-processed)", (el) => { console.log('run callDisqus()'); var timeOut = 10; if (el.classList.contains("show-more")) { timeOut = 1000; } el.classList.add('js--callDisqus-processed') el.addEventListener('click', function () { setTimeout(function () { let t = el, thisPost = t.closest('article') || t.closest('.js-section-loader-feature-container'), postId = t.getAttribute('data-postid'), postURL = t.getAttribute('data-disqus-url'); document.querySelector('#disqus_thread') && document.querySelector('#disqus_thread').remove(); if (t.closest('.article__shares')) { let postWrap = document.querySelector('.mobile-post-wrapper'); postWrap.appendChild(disqusCt); } else { let afterEl = t.closest('.widget'); if (afterEl) { afterEl.parentNode.insertBefore(disqusCt, afterEl.nextElementSibling); } } console.log('DISQUS.reset', postId, postURL); DISQUS.reset({ reload: true, config: function () { this.page.identifier = postId; this.page.url = postURL; } }); if (t.classList.contains('js--toggleDisqus')) { let disqus = document.getElementById("disqus_thread"); // disqus.scrollIntoView(); } }, timeOut) }); }); // Hide hidden tip-jar, idk why window.REBELMOUSE_STDLIB.createElementChangeListener(".js-keep-reading:not(.js-processed)", (el) => { let keepReading = el; keepReading.classList.add('js-processed'); //keepReading.closest('.mb-2').nextElementSibling.style.display='none'; });
});

[ad_2]

Source link