[ad_1]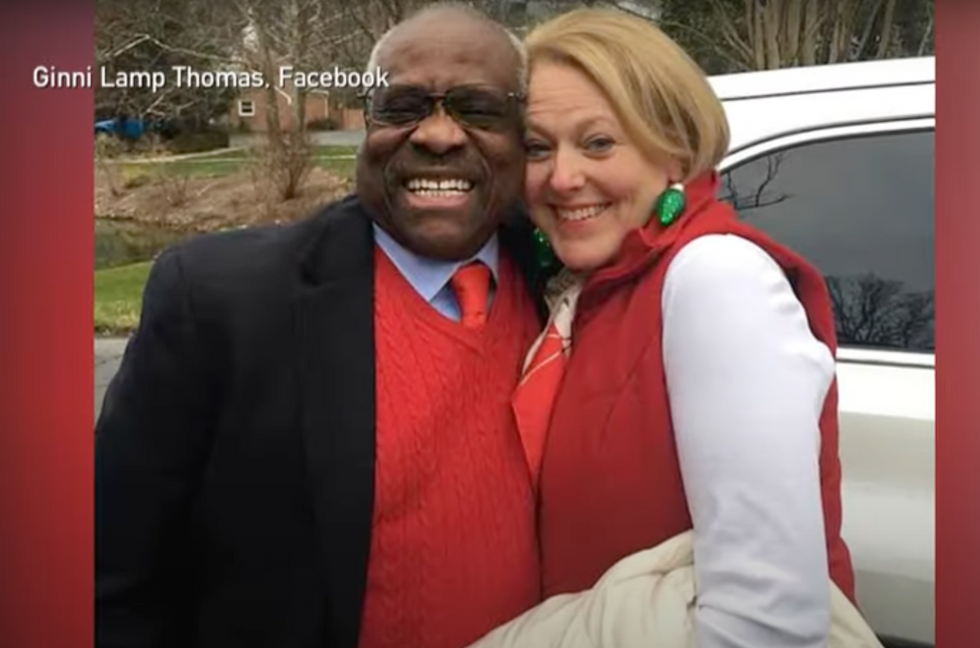 Everybody's least favourite red-pilled auntie is again within the information for making an attempt to overthrow a Democratic election. Once more.
When final we left Ginni Thomas, spouse of Supreme Courtroom Justice Clarence Thomas and member of half the conservative political boards in DC, she was fantasizing about placing the "Biden crime household" on "barges off GITMO to face army tribunals for sedition." This was in texts exchanged with former White Home chief of workers Mark Meadows, through which she mentioned numerous looney tunes theories about vote fraud.
"Watermarked ballots in over 12 states have been a part of an enormous Trump & army white hat sting operation in 12 key battleground states," she hyperventilated, referring to a wackass principle the QAnon weirdos have been vomiting into one another's mouths about Trump seeding the nation with marked ballots and catching Joe Biden within the act of committing vote fraud at scale.
It is actually fucking loopy, however no crazier than her husband claiming to be the avatar of judicial ethics whereas refusing to recuse from instances pertaining to the 2020 election whereas his spouse confirmed up on the pre-riot rally on January 6, was all the best way up in efforts to overturn Joe Biden's win, and should have even participated in the "War Room" events on the Willard Resort main as much as the riot.
And on Friday the Washington Post bought much more particulars of Ginni Thomas's efforts to strain lawmakers to overturn the need of the voters and steal the election.
---
Apparently Our Ginni bought herself onto one of many websites that permits folks to spam elected officers, and she or he despatched emails to a number of lawmakers urging them to steal electors and provides the election to Trump.
"Article II of the US Structure offers you an superior duty: to decide on our state's electors," she wrote to Arizona Home Speaker Rusty Bowers and state Rep. Shawnna Bolick on November 9, even though she most undoubtedly doesn't dwell in Arizona.
"Please stand sturdy within the face of political and media strain. Please mirror on the superior authority granted to you by our Structure," she went on. "After which please take motion to make sure that a clear slate of electors is chosen for our state." (Once more, not her state.)
She despatched the same e-mail to the pair on December 13, urging the pair to claw again the electoral votes precise residents of Arizona had chosen on the poll field: "Earlier than you select your state's Electors … contemplate what is going to occur to the nation we ahttps://www.wonkette.com/fine-loretta-lynch-has-better-things-to-do-than-read-hillarys-dumb-emails-anywayll love when you don't arise and lead."
Bowers by no means responded to Thomas instantly, however he did put out a public statement on December 4 rebuking "Rudy Giuliani, Jenna Ellis, and others representing President Donald Trump" for asking him to do what Ginni Thomas had demanded. "Nothing within the U.S. Structure or the choices of the U.S. Supreme Courtroom even means that the Arizona Legislature may retroactively appoint completely different electors who would solid their ballots for various candidates," he wrote.
Bolick, who's working to be Arizona's subsequent secretary of state, is married to Arizona Supreme Courtroom Justice Clint Bolick, who was mentored by Justice Clarence Thomas earlier in his profession. And Shawnna Bolick did reply to Ginni's e-mail.
"I hope you and Clarence are doing nice!" she wrote on November 10, sending her message to Ginni's private e-mail instantly together with info on easy methods to report issues casting a poll in Arizona — one thing Ginni Thomas would know precisely nothing about.
"Enjoyable that this got here to you! Simply a part of our marketing campaign to assist states really feel America's eyes!!!" Thomas responded, gleefully congratulating herself on taking part in a marketing campaign to menace legislators into overturning the election.
LOL, bear in mind when Invoice Clinton talked to Loretta Lynch for ten minutes on the tarmac, and the GOP launched a large investigation and pretended the FBI was too BIASSSSS to research Hillary Clinton and lock her up in e-mail jail?
This is a passage from the Publish that illustrates simply how wildly inappropriate it's for Justice Thomas to adjudicate an election swimsuit relating to the 2020 marketing campaign.
Thomas was then serving on the board of CNP Motion, the political advocacy arm of the Council for Nationwide Coverage. CNP Motion was utilizing its affect in Republican circles on the time to attempt to hold Trump in workplace. On Nov. 13, 2020, CNP Motion held a workshop titled "Election Outcomes and Authorized Battles: What Now?" that includes, amongst different audio system, Cleta Mitchell, based on an agenda that researcher Brent Allpress offered to the left-leaning watchdog group Middle for Media and Democracy, which printed it that very same month. Mitchell, a lawyer, assisted Trump in his efforts to overturn Biden's victory in Georgia.

After that workshop, the group circulated guidance to focus efforts on legislators in Pennsylvania, Georgia and Arizona. "Demand that they not abandon their Constitutional tasks at a time equivalent to this," learn the steering, which was additionally obtained by Allpress and first printed by the Middle for Media and Democracy. It mentioned to push for brand new electors "in states the place constitutional rights have been violated and proof of considerable fraud has been established."
That is the play they're planning to run in 2024. They need gerrymandered state legislatures to make sure that swing state ballots go to the Republican nominee, whatever the will of the voters. Justice Thomas's conflicts are past debate in mild of his spouse's shenanigans, and there is not a rattling factor we are able to do about it.
Effectively, there's one factor. We will present up on the polls in November and make it possible for Shawnna Bolick and the remainder of the ratfucking goons the GOP is making an attempt to jam in there cannot get their filthy paws wherever close to the ballots in 2024.
Can we please all decide to doing that?
OPEN THREAD.
[WaPo]
Comply with Liz Dye on Twitter!
Click on the widget to maintain your Wonkette ad-free and feisty. And when you're ordering from Amazon, use this link, because reasons.
window.REBELMOUSE_ACTIVE_TASKS_QUEUE.push(function(){
!function(f,b,e,v,n,t,s) {if(f.fbq)return;n=f.fbq=function(){n.callMethod? n.callMethod.apply(n,arguments):n.queue.push(arguments)}; if(!f._fbq)f._fbq=n;n.push=n;n.loaded=!0;n.version='2.0'; n.queue=[];t=b.createElement(e);t.async=!0; t.src=v;s=b.getElementsByTagName(e)[0]; s.parentNode.insertBefore(t,s)}(window, document,'script', 'https://connect.facebook.net/en_US/fbevents.js'); fbq('init', '482172895483293'); fbq('track', 'PageView');
});
window.REBELMOUSE_ACTIVE_TASKS_QUEUE.push(function(){
/*! getClosest.js | (c) 2017 Chris Ferdinandi | MIT License | http://github.com/cferdinandi/getClosest */ /** * Get the closest parent element that matches a selector. * @param {Element} elem Starting element * @param {String} selector Selector to match against * @return Element Returns null if not match found */ var getClosest = function(elem, selector) {
// Element.matches() polyfill if (!Element.prototype.matches) { Element.prototype.matches = Element.prototype.matchesSelector || Element.prototype.mozMatchesSelector || Element.prototype.msMatchesSelector || Element.prototype.oMatchesSelector || Element.prototype.webkitMatchesSelector || function(s) { var matches = (this.document || this.ownerDocument).querySelectorAll(s), i = matches.length; while (--i >= 0 && matches.item(i) !== this) {} return i > -1; }; }
// Get closest match for (; elem && elem !== document; elem = elem.parentNode) { if (elem.matches(selector)) return elem; }
return null;
};
// Vanilla JS
var className="active";
// getting current URL and adding a class on the current menu item
var path = location.pathname.split("https://www.wonkette.com/")[1]; var link = document.querySelectorAll('.menubar a[href="https://www.wonkette.com/" + path + '"]'); if (link[0]) { if (link[0].classList) { link[0].classList.add(className); } else { link[0].className += ' ' + className; } }
// remove class from home-link var home = document.getElementsByClassName('home__item'); if (home[0]) { if (home[0].classList) { home[0].classList.remove(className); } else b)' + className.split(' ').join(' }
// search the closest parent and adding an active class on it too
var closestParent = getClosest(link[0], '.menubar_item-dropdown');
if (closestParent) { if (closestParent.classList) { closestParent.classList.add(className);
} else { closestParent.className += ' ' + className; } }
var socials = document.getElementsByClassName('social-links')[0]; var cloneSocials = socials.cloneNode(true);
var menu = document.getElementById("menubar"); var cloneMenu = menu.cloneNode(true);
var mobileMenu = document.getElementsByClassName('main-menu-wrapper')[0]; var beforeEl = document.getElementsByClassName('menu-global__search-form')[0];
mobileMenu.insertBefore(cloneSocials, beforeEl); mobileMenu.insertBefore(cloneMenu, beforeEl);
if (!document.body.classList.contains('logged-out-user')) { var existCondition = setInterval(function() { var userLink = document.querySelectorAll('.main-menu-item--my_page .link'); if (userLink.length) { clearInterval(existCondition); var membersLink = document.querySelectorAll('#membersLink'); var userUrl = userLink[0].href; Array.prototype.forEach.call(membersLink, function(el) { el.href = userUrl; });
if (document.querySelector('.main-menu-item--designer_editor')) { document.querySelector('.main-menu-wrapper').classList.add('user-admin'); } } }, 500); } else { var existCondition = setInterval(function() { var userLink = document.querySelector('.main-menu-item--login .link'); if (userLink) { clearInterval(existCondition); userLink.href="http://www.wonkette.com/core/users/email_login/"; } }, 500)
}
function copyValue(el) { var thisVal = el.options[el.selectedIndex].text; var closestForm = getClosest(el, 'form'); var paypalAmount = closestForm.nextSibling.querySelector('.paypal-amount'); paypalAmount.value = thisVal; }
document.addEventListener("scroll", createIdleScrollListener(() => { if (window.scrollY > 0) { document.body.classList.add('page-scrolled'); } else { document.body.classList.remove('page-scrolled'); } }));
function createIdleScrollListener(callback) { let ticking = false;
return function onScrollIdle() { if (ticking) { return; } ticking = true; requestAnimationFrame(() => { callback(); ticking = false; }); }; }
});
window.REBELMOUSE_ACTIVE_TASKS_QUEUE.push(function(){
window.addEventListener("scroll", () => { if(this.scrollY > 50 ) { document.querySelector(".rebelbar.rebelbar--fixed.skin-simple").style.display = 'none' } else document.querySelector(".rebelbar.rebelbar--fixed.skin-simple").style.display = 'block' });
});
window.REBELMOUSE_ACTIVE_TASKS_QUEUE.push(function(){
window.REBELMOUSE_STDLIB.loadExternalScript("https://checkout.stripe.com/checkout.js", function() {
if (!Element.prototype.matches) Element.prototype.matches = Element.prototype.msMatchesSelector || Element.prototype.webkitMatchesSelector;
if (!Element.prototype.closest) Element.prototype.closest = function(s) { var el = this; if (!document.documentElement.contains(el)) return null; do el.parentNode; while (el !== null && el.nodeType === 1); return null; };
function formsHandling() { var formDonate = document.querySelectorAll('.donation-form:not(.processed)');
formDonate.forEach(function(formEl) { var formEl = formEl;
formEl.classList.add("processed");
formEl.addEventListener("submit", function(event) { event.preventDefault(); });
var donationBtns = formEl.querySelectorAll('.donate-button');
donationBtns.forEach(function(el) { el.addEventListener("click", function(event) { event.preventDefault(); formProcessing(el) }); });
function formProcessing(el) { var btn = el; var payment = btn.getAttribute('data-payment'); var planType = formEl.querySelector('input[name="plan_type"]:checked').value; var checkedOption = formEl.querySelector('input[name="amount"]:checked'); var amount = checkedOption.value * 1; var amountOptional = checkedOption.getAttribute('data-amount'); var dataValue = checkedOption.getAttribute('data-value'); var action;
if ( formEl.contains(formEl.querySelector('.remove-me')) ) { formEl.querySelectorAll('.remove-me').forEach(function(el){ el.remove() }); }
if ( payment == "paypal" ) { formEl.action = "https://www.paypal.com/cgi-bin/webscr"; formEl.setAttribute('target', '_blank');
addHidden( 'currency_code', 'USD'); addHidden( 'cmd', ''); addHidden( 'return', "https://www.wonkette.com/st/Wonkettes_Hero"); addHidden( 'cancel_return', window.location.href);
if ( planType == "once" ) { checkedOption.value = dataValue; formEl.querySelector('input[name="cmd"]').value="_donations"; addHidden( 'business', 'rebecca@wonkette.com'); addHidden( 'item_name', 'Wonkette Donation'); addHidden( 'item_number', 'Just Once');
//add new params addHidden( 'a3', dataValue); addHidden( 'p3', 1); addHidden( 't3', 'D');
} else if ( planType == "monthly" ) { formEl.querySelector('input[name="cmd"]').value="_xclick-subscriptions"; addHidden( 'business', 'rebecca@wonkette.com'); addHidden( 'item_name', 'Wonkette Recurring Donation'); addHidden( 'item_number', 'wonkette_recurring');
//add new params addHidden( 'a3', dataValue); addHidden( 'p3', 1); addHidden( 't3', 'M'); addHidden( 'src', 1); addHidden( 'srt', 52); } formEl.submit(); } else if ( payment == "strip" ) { addHidden( 'entity_type', 1); addHidden( 'plan_type', 1); addHidden('entity_id', getSiteId() ); checkedOption.value = dataValue * 100;
if ( planType == "once" ) { formEl.action = "/core/payment/single_donation"; addHidden( 'plan_name', 'One Time Donation'); stripInit(amount, 'One Time Donation');
} else if ( planType == "monthly" ) { formEl.action = "/core/payment/recurring_donation"; addHidden( 'plan_name', 'Monthly Donation'); addHidden( 'plan', 'donation_' + amount); stripInit(amount, 'Monthly Donation'); }
}
} function addHidden(key, value) { // Create a hidden input element, and append it to the form: var input = document.createElement('input'); input.type="hidden"; input.name = key; input.value = value; input.className += 'remove-me'; formEl.appendChild(input); }
function stripInit(amount, description) { var token = function(res){ addHidden('stripeToken', res.id); addHidden('stripeEmail', res.email); formEl.submit(); };
if (amount) { StripeCheckout.open({ key: 'pk_live_7dJjNGbMgTkHfEasr9FsLcjF', // real //key: 'pk_test_zbMpaIyMyHJ7TLUEheC7q2iS', //test amount: amount, name: 'Wonkette', image: 'https://assets.rbl.ms/16950638/origin.png', description: description, panelLabel: 'Donate', token: token, locale: 'auto' }); } else { window.alert('Select donation amount first') } } });
function getSiteId() { var site_id = null; var inner = document.querySelector('html').innerHTML var str = inner.split('"site_id": '); if( str[1] != undefined ){ site_id = str[1].split(',')[0]; } return !isNaN(site_id) ? site_id : false; } }
formsHandling();
REBELMOUSE_STDLIB.createElementChangeListener(".show-more.js-expand:not(.processed)", (el) => { const keepReading = el; keepReading.classList.add("processed"); keepReading.addEventListener("click", function() { setTimeout(formsHandling, 500) }); });
});
});
window.REBELMOUSE_ACTIVE_TASKS_QUEUE.push(function(){
window.disqus_config = function () { this.page.identifier = "2657374174", this.page.url = "https://www.wonkette.com/how-many-ways-did-ginni-thomas-try-to-ratf-ck-the-2020-election-oh-just-all-of-them"; }; var disqusCt = document.createElement('div'), disqus_config; disqusCt.id = 'disqus_thread'; (function () )();
function loadCountScript(callback) { var s = document.createElement('script'); s.type="text/javascript"; s.async = true; s.id = 'dsq-count-scr'; s.src = "//wonkettecom.disqus.com/count.js"; var x = document.getElementsByTagName('script')[0]; x.parentNode.insertBefore(s, x); s.onload = () => callback(s); document.head.append(s); } loadCountScript(script => { /*Add comment Button to all articles*/ REBELMOUSE_STDLIB.createElementChangeListener(".share-panel:not(.js--has-comments)", (el) => { let sharesPanel = el; sharesPanel.classList.add('js--has-comments'); if (sharesPanel.closest('.article__shares')) { let postId = window.REBELMOUSE_BOOTSTRAP_DATA.post.id, postURL = location.protocol + '//' + location.host + location.pathname; addButton(postURL, postId, sharesPanel); } else if (sharesPanel.closest('.widget')) { let thisPost = sharesPanel.closest('.widget'), postId = thisPost.getAttribute('elid'), postURL = thisPost.querySelector('.widget__headline-text').getAttribute('href'); addButton(postURL, postId, sharesPanel); } }); });
function addButton(url, id, el) { var commentBtn = document.createElement('span'); //commentBtn.href = url; commentBtn.classList.add('js--toggleDisqus'); commentBtn.classList.add('disqus-comment-count'); commentBtn.setAttribute('data-disqus-url', url); commentBtn.setAttribute('data-postid', id); //commentBtn.setAttribute('data-disqus-identifier', id); commentBtn.innerText="0"; el.append(commentBtn); DISQUSWIDGETS.getCount({ reset: true }); //console.log(url, id); } REBELMOUSE_STDLIB.createElementChangeListener(".js--toggleDisqus:not(.js--callDisqus-processed), .show-more:not(.js--callDisqus-processed)", (el) => { console.log('run callDisqus()'); var timeOut = 10; if (el.classList.contains("show-more")) { timeOut = 1000; } el.classList.add('js--callDisqus-processed') el.addEventListener('click', function () { setTimeout(function () { let t = el, thisPost = t.closest('article') || t.closest('.js-section-loader-feature-container'), postId = t.getAttribute('data-postid'), postURL = t.getAttribute('data-disqus-url'); document.querySelector('#disqus_thread') && document.querySelector('#disqus_thread').remove(); if (t.closest('.article__shares')) { let postWrap = document.querySelector('.mobile-post-wrapper'); postWrap.appendChild(disqusCt); } else { let afterEl = t.closest('.widget'); if (afterEl) { afterEl.parentNode.insertBefore(disqusCt, afterEl.nextElementSibling); } } console.log('DISQUS.reset', postId, postURL); DISQUS.reset({ reload: true, config: function () { this.page.identifier = postId; this.page.url = postURL; } }); if (t.classList.contains('js--toggleDisqus')) { let disqus = document.getElementById("disqus_thread"); // disqus.scrollIntoView(); } }, timeOut) }); }); // Hide hidden tip-jar, idk why window.REBELMOUSE_STDLIB.createElementChangeListener(".js-keep-reading:not(.js-processed)", (el) => { let keepReading = el; keepReading.classList.add('js-processed'); //keepReading.closest('.mb-2').nextElementSibling.style.display='none'; });
});

[ad_2]

Source link