[ad_1]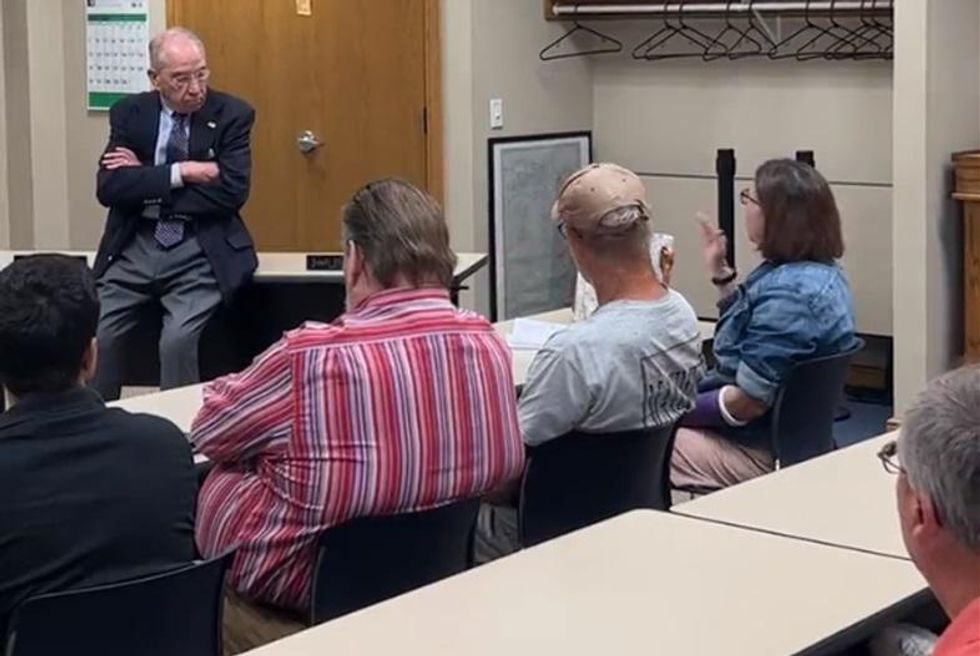 Sen. Chuck Grassley (R-Iowa) confronted a pretty feisty group of voters at a town hall in Columbus Junction, Iowa, Wednesday, and did his degree finest to keep away from saying something in any respect about whether or not he would help any limits in any respect on weapons following the horrific string of mass shootings prior to now three weeks. (Sure, the racist bloodbath in Buffalo, New York, occurred on Might 14, not a number of months again.)
A small crown of round 20 voters pressed him on what he was ready to do about weapons, however all he'd say was that there isn't any level in speaking about what he may help till bipartisan negotiations between Sens. John Cornyn (R-Texas) and Chris Murphy (D-Connecticut) lead to proposed laws. Politics weblog Iowa Starting Line says Grassley framed his vagueness as a principled effort to let the negotiations proceed with out stress, do not you see:
Yesterday, that they had a gathering by Zoom and so they had very constructive outcomes, and so they assume they've a framework put collectively that one thing will be finished to cease this violence by some gun laws and thru some college questions of safety. To reply your query, I'm going to attend till they report subsequent week earlier than I determine what I'm going to do.
Thoughts you, Grassley was all kinds of unhappy in regards to the bloodbath in Uvalde, Texas, as a result of it is "a tragic commentary when we now have any person who can kill all the youngsters that have been killed, you'd assume the most secure place to go, to ship your children to high school is the most secure place," he defined, not that he is prepared to guard children by stemming the simple availability of military-grade weapons. Perhaps armored stairwells are the reply. Or dugout trenches in school rooms, how about that? These might have the additional benefit of bringing All Quiet on the Western Entrance to life.
---
For some purpose, some individuals within the viewers did not appear to understand Grassley's dedication to staying noncommittal for the sake of the method. A number of objected to Grassley's longstanding opposition to any form of gun reform, like when final December Grassley blocked Sen. Chris Murphy's attempt to make all gun gross sales topic to federal background checks. As a substitute, Grassley supplied an "different" that might barely improve information-sharing utilized in background checks, whereas weakening red-flag legal guidelines and making it simpler to move weapons and ammunition throughout state traces.
Learn Extra:
Sean Hannity Prayed For A Mission, And For His Sins, They Gave Him One
Very Concerned Republicans Make Run To Border To Find Facts, Photo Ops
One woman in the audience at the town hall objected, "You've got been filibustering gun reform. My daughter's a instructor, my daughter-in-law is a instructor. You might be risking their lives." She additionally questioned aloud why Grassley hadn't traveled to Texas to do some considering and praying with the individuals o f Uvalde, which was fairly impolite since by regulation, Republicans are solely allowed to go to Texas to wave machine guns at Mexico from police patrol boats. (Nice, Grassley hasn't gone on a type of junkets, so far as we all know, however it's Friday and we love reliving the Apocalypse Now gags.)
Later within the assembly, Grassley additionally defended his vote to guard gun producers from legal responsibility lawsuits, explaining he believed "an trustworthy enterprise ought to not be sued for one thing that any person else does" with its merchandise, though people within the viewers identified that is not the case for many merchandise that are not particularly designed to place deadly holes in individuals.
One other viewers member referred to as for a ban on AR-15s, however Grassley patiently defined to that hothead that there are one thing like 15 million of them in circulation, so why trouble? (Iowa Beginning Line factors out it is extra doubtless 20 million of the things.)
""You're nonetheless going to have AR-15s even if you happen to cease promoting them proper now," Grassley mentioned.

The reply is to not do nothing!" one lady behind the room yelled in response.
Grassley, ever the gentleman, didn't reply that he is made a profession of doing nothing and sees no purpose to vary that.
The grim outdated bastard additionally mentioned, once more, that whereas he would not take a place on something but, he loves him some Second Modification, including that if a pink flag regulation got here up, he'd be certain that it protects "due course of" — code, as earlier than, for making such protecting orders as slim as attainable in order that fewer harmful individuals lose their weapons.
As for his personal firearms use, Grassley mentioned that he hadn't shot a gun "in in all probability 20, 40 or 50 years," though he does personal "one little gun" that he hasn't fired since both the GW Bush, Reagan, or Nixon administrations, who can bear in mind? "So that you aren't speaking to somebody who loves weapons, I don't hate weapons, however I do shield individuals's constitutional rights."
Lastly, close to the tip of the assembly, normal contractor Max Hilton mentioned that if motion is not taken on weapons, issues might get fairly ugly on this nation:
"Nothing's progressed I'd say for 40 years. We've been in stasis," Hilton mentioned to Grassley. "We haven't mounted weapons. We haven't mounted medication. We haven't mounted social injustice. We haven't mounted the immigration system. I'm not indicting you personally, I'm indicting the entire group."

Hilton added that he felt some individuals have been shopping for up AR-15s as a result of they're making ready—and hoping—for a civil warfare.

"You guys have to get it collectively," Hilton mentioned. "As a result of if you happen to don't get it collectively, there's some individuals out amongst us which might be going to turn out to be extra violent. And we're this near that taking place. Yet one more election like we simply had, and these shenanigans that gone on for 2 years with individuals, 'properly I'm unsure it's a good election or not' … that stuff's gotta cease."
Grassley replied that bipartisanship is good, however do not get too labored up about something passing, as a result of in any case there's the filibuster, and properly that is simply the way it goes, not that he is a part of the perpetual Republican inertia, assume more schoolchildren dead.
Learn Extra: Chuck Grassley's Postmodern Tweet-Lit Phenom: 'Assume Deer Dead'
Yr Wonkette is funded totally by reader donations. Should you're not a whole dweeb, and you may afford it, please assist! Should you are a whole dweeb, all of the extra purpose to donate!
window.REBELMOUSE_ACTIVE_TASKS_QUEUE.push(function(){
!function(f,b,e,v,n,t,s) {if(f.fbq)return;n=f.fbq=function(){n.callMethod? n.callMethod.apply(n,arguments):n.queue.push(arguments)}; if(!f._fbq)f._fbq=n;n.push=n;n.loaded=!0;n.version='2.0'; n.queue=[];t=b.createElement(e);t.async=!0; t.src=v;s=b.getElementsByTagName(e)[0]; s.parentNode.insertBefore(t,s)}(window, document,'script', 'https://connect.facebook.net/en_US/fbevents.js'); fbq('init', '482172895483293'); fbq('track', 'PageView');
});
window.REBELMOUSE_ACTIVE_TASKS_QUEUE.push(function(){
/*! getClosest.js | (c) 2017 Chris Ferdinandi | MIT License | http://github.com/cferdinandi/getClosest */ /** * Get the closest parent element that matches a selector. * @param {Element} elem Starting element * @param {String} selector Selector to match against * @return Element Returns null if not match found */ var getClosest = function(elem, selector) {
// Element.matches() polyfill if (!Element.prototype.matches) { Element.prototype.matches = Element.prototype.matchesSelector || Element.prototype.mozMatchesSelector || Element.prototype.msMatchesSelector || Element.prototype.oMatchesSelector || Element.prototype.webkitMatchesSelector || function(s) { var matches = (this.document || this.ownerDocument).querySelectorAll(s), i = matches.length; while (--i >= 0 && matches.item(i) !== this) {} return i > -1; }; }
// Get closest match for (; elem && elem !== document; elem = elem.parentNode) { if (elem.matches(selector)) return elem; }
return null;
};
// Vanilla JS
var className="active";
// getting current URL and adding a class on the current menu item
var path = location.pathname.split("https://www.wonkette.com/")[1]; var link = document.querySelectorAll('.menubar a[href="https://www.wonkette.com/" + path + '"]'); if (link[0]) { if (link[0].classList) { link[0].classList.add(className); } else { link[0].className += ' ' + className; } }
// remove class from home-link var home = document.getElementsByClassName('home__item'); if (home[0]) { if (home[0].classList) { home[0].classList.remove(className); } else b)' + className.split(' ').join(' }
// search the closest parent and adding an active class on it too
var closestParent = getClosest(link[0], '.menubar_item-dropdown');
if (closestParent) { if (closestParent.classList) { closestParent.classList.add(className);
} else { closestParent.className += ' ' + className; } }
var socials = document.getElementsByClassName('social-links')[0]; var cloneSocials = socials.cloneNode(true);
var menu = document.getElementById("menubar"); var cloneMenu = menu.cloneNode(true);
var mobileMenu = document.getElementsByClassName('main-menu-wrapper')[0]; var beforeEl = document.getElementsByClassName('menu-global__search-form')[0];
mobileMenu.insertBefore(cloneSocials, beforeEl); mobileMenu.insertBefore(cloneMenu, beforeEl);
if (!document.body.classList.contains('logged-out-user')) { var existCondition = setInterval(function() { var userLink = document.querySelectorAll('.main-menu-item--my_page .link'); if (userLink.length) { clearInterval(existCondition); var membersLink = document.querySelectorAll('#membersLink'); var userUrl = userLink[0].href; Array.prototype.forEach.call(membersLink, function(el) { el.href = userUrl; });
if (document.querySelector('.main-menu-item--designer_editor')) { document.querySelector('.main-menu-wrapper').classList.add('user-admin'); } } }, 500); } else { var existCondition = setInterval(function() { var userLink = document.querySelector('.main-menu-item--login .link'); if (userLink) { clearInterval(existCondition); userLink.href="http://www.wonkette.com/core/users/email_login/"; } }, 500)
}
function copyValue(el) { var thisVal = el.options[el.selectedIndex].text; var closestForm = getClosest(el, 'form'); var paypalAmount = closestForm.nextSibling.querySelector('.paypal-amount'); paypalAmount.value = thisVal; }
document.addEventListener("scroll", createIdleScrollListener(() => { if (window.scrollY > 0) { document.body.classList.add('page-scrolled'); } else { document.body.classList.remove('page-scrolled'); } }));
function createIdleScrollListener(callback) { let ticking = false;
return function onScrollIdle() { if (ticking) { return; } ticking = true; requestAnimationFrame(() => { callback(); ticking = false; }); }; }
});
window.REBELMOUSE_ACTIVE_TASKS_QUEUE.push(function(){
window.addEventListener("scroll", () => { if(this.scrollY > 50 ) { document.querySelector(".rebelbar.rebelbar--fixed.skin-simple").style.display = 'none' } else document.querySelector(".rebelbar.rebelbar--fixed.skin-simple").style.display = 'block' });
});
window.REBELMOUSE_ACTIVE_TASKS_QUEUE.push(function(){
window.REBELMOUSE_STDLIB.loadExternalScript("https://checkout.stripe.com/checkout.js", function() {
if (!Element.prototype.matches) Element.prototype.matches = Element.prototype.msMatchesSelector || Element.prototype.webkitMatchesSelector;
if (!Element.prototype.closest) Element.prototype.closest = function(s) { var el = this; if (!document.documentElement.contains(el)) return null; do el.parentNode; while (el !== null && el.nodeType === 1); return null; };
function formsHandling() { var formDonate = document.querySelectorAll('.donation-form:not(.processed)');
formDonate.forEach(function(formEl) { var formEl = formEl;
formEl.classList.add("processed");
formEl.addEventListener("submit", function(event) { event.preventDefault(); });
var donationBtns = formEl.querySelectorAll('.donate-button');
donationBtns.forEach(function(el) { el.addEventListener("click", function(event) { event.preventDefault(); formProcessing(el) }); });
function formProcessing(el) { var btn = el; var payment = btn.getAttribute('data-payment'); var planType = formEl.querySelector('input[name="plan_type"]:checked').value; var checkedOption = formEl.querySelector('input[name="amount"]:checked'); var amount = checkedOption.value * 1; var amountOptional = checkedOption.getAttribute('data-amount'); var dataValue = checkedOption.getAttribute('data-value'); var action;
if ( formEl.contains(formEl.querySelector('.remove-me')) ) { formEl.querySelectorAll('.remove-me').forEach(function(el){ el.remove() }); }
if ( payment == "paypal" ) { formEl.action = "https://www.paypal.com/cgi-bin/webscr"; formEl.setAttribute('target', '_blank');
addHidden( 'currency_code', 'USD'); addHidden( 'cmd', ''); addHidden( 'return', "https://www.wonkette.com/st/Wonkettes_Hero"); addHidden( 'cancel_return', window.location.href);
if ( planType == "once" ) { checkedOption.value = dataValue; formEl.querySelector('input[name="cmd"]').value="_donations"; addHidden( 'business', 'rebecca@wonkette.com'); addHidden( 'item_name', 'Wonkette Donation'); addHidden( 'item_number', 'Just Once');
//add new params addHidden( 'a3', dataValue); addHidden( 'p3', 1); addHidden( 't3', 'D');
} else if ( planType == "monthly" ) { formEl.querySelector('input[name="cmd"]').value="_xclick-subscriptions"; addHidden( 'business', 'rebecca@wonkette.com'); addHidden( 'item_name', 'Wonkette Recurring Donation'); addHidden( 'item_number', 'wonkette_recurring');
//add new params addHidden( 'a3', dataValue); addHidden( 'p3', 1); addHidden( 't3', 'M'); addHidden( 'src', 1); addHidden( 'srt', 52); } formEl.submit(); } else if ( payment == "strip" ) { addHidden( 'entity_type', 1); addHidden( 'plan_type', 1); addHidden('entity_id', getSiteId() ); checkedOption.value = dataValue * 100;
if ( planType == "once" ) { formEl.action = "/core/payment/single_donation"; addHidden( 'plan_name', 'One Time Donation'); stripInit(amount, 'One Time Donation');
} else if ( planType == "monthly" ) { formEl.action = "/core/payment/recurring_donation"; addHidden( 'plan_name', 'Monthly Donation'); addHidden( 'plan', 'donation_' + amount); stripInit(amount, 'Monthly Donation'); }
}
} function addHidden(key, value) { // Create a hidden input element, and append it to the form: var input = document.createElement('input'); input.type="hidden"; input.name = key; input.value = value; input.className += 'remove-me'; formEl.appendChild(input); }
function stripInit(amount, description) { var token = function(res){ addHidden('stripeToken', res.id); addHidden('stripeEmail', res.email); formEl.submit(); };
if (amount) { StripeCheckout.open({ key: 'pk_live_7dJjNGbMgTkHfEasr9FsLcjF', // real //key: 'pk_test_zbMpaIyMyHJ7TLUEheC7q2iS', //test amount: amount, name: 'Wonkette', image: 'https://assets.rbl.ms/16950638/origin.png', description: description, panelLabel: 'Donate', token: token, locale: 'auto' }); } else { window.alert('Select donation amount first') } } });
function getSiteId() { var site_id = null; var inner = document.querySelector('html').innerHTML var str = inner.split('"site_id": '); if( str[1] != undefined ){ site_id = str[1].split(',')[0]; } return !isNaN(site_id) ? site_id : false; } }
formsHandling();
REBELMOUSE_STDLIB.createElementChangeListener(".show-more.js-expand:not(.processed)", (el) => { const keepReading = el; keepReading.classList.add("processed"); keepReading.addEventListener("click", function() { setTimeout(formsHandling, 500) }); });
});
});
window.REBELMOUSE_ACTIVE_TASKS_QUEUE.push(function(){
window.disqus_config = function () { this.page.identifier = "2657454232", this.page.url = "https://www.wonkette.com/chuck-grassley-pilloried-over-gun-inaction-but-only-metaphorically-darn-it"; }; var disqusCt = document.createElement('div'), disqus_config; disqusCt.id = 'disqus_thread'; (function () d.body).appendChild(s); )();
function loadCountScript(callback) { var s = document.createElement('script'); s.type="text/javascript"; s.async = true; s.id = 'dsq-count-scr'; s.src = "//wonkettecom.disqus.com/count.js"; var x = document.getElementsByTagName('script')[0]; x.parentNode.insertBefore(s, x); s.onload = () => callback(s); document.head.append(s); } loadCountScript(script => { /*Add comment Button to all articles*/ REBELMOUSE_STDLIB.createElementChangeListener(".share-panel:not(.js--has-comments)", (el) => { let sharesPanel = el; sharesPanel.classList.add('js--has-comments'); if (sharesPanel.closest('.article__shares')) { let postId = window.REBELMOUSE_BOOTSTRAP_DATA.post.id, postURL = location.protocol + '//' + location.host + location.pathname; addButton(postURL, postId, sharesPanel); } else if (sharesPanel.closest('.widget')) { let thisPost = sharesPanel.closest('.widget'), postId = thisPost.getAttribute('elid'), postURL = thisPost.querySelector('.widget__headline-text').getAttribute('href'); addButton(postURL, postId, sharesPanel); } }); });
function addButton(url, id, el) { var commentBtn = document.createElement('span'); //commentBtn.href = url; commentBtn.classList.add('js--toggleDisqus'); commentBtn.classList.add('disqus-comment-count'); commentBtn.setAttribute('data-disqus-url', url); commentBtn.setAttribute('data-postid', id); //commentBtn.setAttribute('data-disqus-identifier', id); commentBtn.innerText="0"; el.append(commentBtn); DISQUSWIDGETS.getCount({ reset: true }); //console.log(url, id); } REBELMOUSE_STDLIB.createElementChangeListener(".js--toggleDisqus:not(.js--callDisqus-processed), .show-more:not(.js--callDisqus-processed)", (el) => { console.log('run callDisqus()'); var timeOut = 10; if (el.classList.contains("show-more")) { timeOut = 1000; } el.classList.add('js--callDisqus-processed') el.addEventListener('click', function () { setTimeout(function () { let t = el, thisPost = t.closest('article') || t.closest('.js-section-loader-feature-container'), postId = t.getAttribute('data-postid'), postURL = t.getAttribute('data-disqus-url'); document.querySelector('#disqus_thread') && document.querySelector('#disqus_thread').remove(); if (t.closest('.article__shares')) { let postWrap = document.querySelector('.mobile-post-wrapper'); postWrap.appendChild(disqusCt); } else { let afterEl = t.closest('.widget'); if (afterEl) { afterEl.parentNode.insertBefore(disqusCt, afterEl.nextElementSibling); } } console.log('DISQUS.reset', postId, postURL); DISQUS.reset({ reload: true, config: function () { this.page.identifier = postId; this.page.url = postURL; } }); if (t.classList.contains('js--toggleDisqus')) { let disqus = document.getElementById("disqus_thread"); // disqus.scrollIntoView(); } }, timeOut) }); }); // Hide hidden tip-jar, idk why window.REBELMOUSE_STDLIB.createElementChangeListener(".js-keep-reading:not(.js-processed)", (el) => { let keepReading = el; keepReading.classList.add('js-processed'); //keepReading.closest('.mb-2').nextElementSibling.style.display='none'; });
});

[ad_2]

Source link