[ad_1]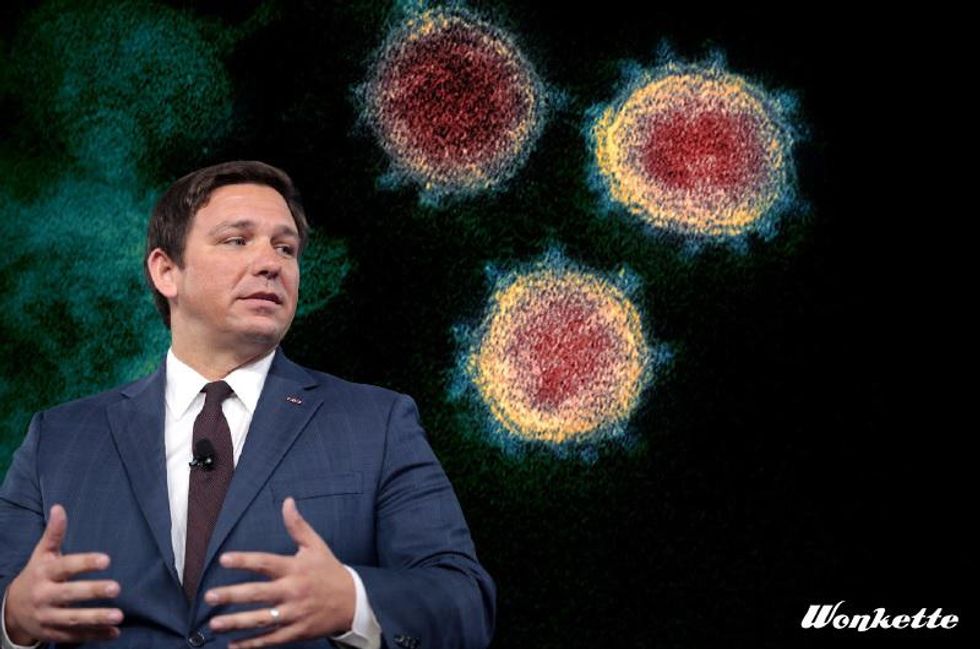 The FDA's impartial vaccine advisory board voted on Wednesday to advocate approval of COVID vaccines from Moderna and from Pfizer-BioNTech for use in very young children. Each vaccines now simply want emergency-use authorization from the FDA, and a remaining sign-off from the Facilities for Illness Management and Prevention, after which they'll begin being given to infants, toddlers, and preschoolers beginning as early as subsequent Tuesday.
Each vaccines will be given to infants as younger as six months previous. The 2-dose Moderna vaccine will probably be accredited for youths as much as the age of six, and the three-dose Pfizer vaccine for youths as much as 5 years. And eventually nearly all age teams will have the ability to get a vaccine. States have already pre-ordered vaccines to ensure there will be sufficient doses to fulfill demand; the federal authorities ought to begin shipments Monday.
Or at the least all states however Florida have pre-ordered the early-childhood doses of vaccine. Florida Gov. Ron DeSantis, who has constantly opposed all sound medical recommendation in responding to the pandemic, as a result of that performs properly with the far-Proper, confirmed Thursday that Florida will not be ordering any vaccines for young kids, so if dad and mom need their children vaccinated, they will should hope they'll get the vaccine by means of clinics and pharmacies that obtain them instantly from the federal authorities.
"There may be not going to be any state packages which can be going to be attempting to get COVID jabs to infants, toddlers, and newborns," the Republican governor stated in response to a query requested at a press convention in Miami. […] "That is not one thing that we predict is acceptable and in order that's not the place we're going to be using our assets."
In a outstanding present of fine style and restraint, DeSantis by some means averted flipping the hen at dad and mom of younger kids; nor did he shout "Let's go Brandon!" and smirk.
---
White Home Press Secretary Karine Jean-Pierre stated Florida's refusal to order vaccine doses will lead to Florida dad and mom having a more durable time getting their younger kids vaccinated, in comparison with different states. It isn't but clear how lengthy the delays in Florida are prone to be, nevertheless. Jean-Pierre famous that some pharmacies and neighborhood well being facilities will get vaccines instantly from the federal authorities, though pharmacies will solely be vaccinating children aged three and up. Youthful kids would wish to go to a pediatrician, and most medical doctors' places of work have up till now relied on the state to distribute vaccines. Guess Ron DeSantis will educate them a lesson about what occurs once you belief the federal government.
This actually is not the primary time Florida has pursued well being insurance policies that seem to have been drafted by the precise SARS-CoV-2 virus itself. Early on, DeSantis appeared to play politics with vaccine distribution, with vaccines attending to wealthy, GOP-leaning communities earlier than they reached poorer communities with larger an infection charges. DeSantis recklessly banned schools from requiring face masks, then withheld salaries from school board members who voted to require masks. Final yr, DeSantis appointed full-on crank Dr. Joseph Ladapo as state surgeon general, regardless of (or due to) Ladapo's behavior of pushing misinformation about COVID.
Learn Extra:
Judge Slaps Down DeSantis School Mask Ban Because Giving Kids COVID Is … Bad Actually?

Ron DeSantis Flips Off Judge, Steals School Board Salaries In Mask Ban F***tussle
In Bold Move, Ron DeSantis Appoints Actual COVID Virus As Florida Surgeon General
Florida Surgeon General To Kids: Drop Dead
Persevering with DeSantis's coverage of selling most liberty for Florida children to turn out to be contaminated, Ladapo in March of this yr declared that, counter to CDC suggestions, Florida would advocate that kids aged 5 to 17 not be vaccinated until they've "underlying circumstances" that may put them in danger from COVID.
Once more, kids should not magically exempt from COVID, and circumstances of the illness in kids spiked final winter when the Omicron variant surged. Whereas COVID has largely killed adults, particularly older adults, it can be lethal to kids — together with infants, toddlers and preschoolers. CDC information present that nationwide, greater than 2.5 million kids aged zero to 4 have been contaminated with the virus, and 481 children in that age group have died from COVID.
Not that science is what's guiding Florida coverage anyway. MAGA chuds hate illness prevention, and vaccines stop illness, so Florida is not going to do something that may enhance vaccination charges.
In a statement to Insider about DeSantis's refusal to order vaccines for youths beneath six, the Florida Division of Well being defined it
"has made it clear to the federal authorities that states don't should be concerned within the convoluted vaccine distribution course of." It additionally stated that Florida's choice to not take part ought to come at "no shock" provided that the division does not advocate pictures for youngsters.

"Medical doctors can order vaccines if they're in want, and there are at the moment no orders within the division's ordering system for the COVID-19 vaccine for this age group," the division stated in an e mail that had no title connected.
DeSantis adopted up his feedback Thursday with reassurances that if dad and mom need to get their younger kids vaccinated, they're nonetheless allowed to; he is simply not going to do something to maneuver that course of alongside.
"The state's advice holds: It is a advice towards doing it," DeSantis stated Thursday. "That is totally different than saying you may't. You're free to decide on."
That needs to be an enormous consolation to folks competing to get their children linked with no matter vaccines really do get shipped to Florida.
[Politico / Insider / DeSantis image: Gage Skidmore, Creative Commons License 2.0]
Yr Wonkette is funded completely by reader donations. If you happen to can, please give $5 or $10 a month so we will hold this little mommyblog going!
window.REBELMOUSE_ACTIVE_TASKS_QUEUE.push(function(){
!function(f,b,e,v,n,t,s) {if(f.fbq)return;n=f.fbq=function(){n.callMethod? n.callMethod.apply(n,arguments):n.queue.push(arguments)}; if(!f._fbq)f._fbq=n;n.push=n;n.loaded=!0;n.version='2.0'; n.queue=[];t=b.createElement(e);t.async=!0; t.src=v;s=b.getElementsByTagName(e)[0]; s.parentNode.insertBefore(t,s)}(window, document,'script', 'https://connect.facebook.net/en_US/fbevents.js'); fbq('init', '482172895483293'); fbq('track', 'PageView');
});
window.REBELMOUSE_ACTIVE_TASKS_QUEUE.push(function(){
/*! getClosest.js | (c) 2017 Chris Ferdinandi | MIT License | http://github.com/cferdinandi/getClosest */ /** * Get the closest parent element that matches a selector. * @param {Element} elem Starting element * @param {String} selector Selector to match against * @return Element Returns null if not match found */ var getClosest = function(elem, selector) {
// Element.matches() polyfill if (!Element.prototype.matches) { Element.prototype.matches = Element.prototype.matchesSelector || Element.prototype.mozMatchesSelector || Element.prototype.msMatchesSelector || Element.prototype.oMatchesSelector || Element.prototype.webkitMatchesSelector || function(s) { var matches = (this.document || this.ownerDocument).querySelectorAll(s), i = matches.length; while (--i >= 0 && matches.item(i) !== this) {} return i > -1; }; }
// Get closest match for (; elem && elem !== document; elem = elem.parentNode) { if (elem.matches(selector)) return elem; }
return null;
};
// Vanilla JS
var className="active";
// getting current URL and adding a class on the current menu item
var path = location.pathname.split("https://www.wonkette.com/")[1]; var link = document.querySelectorAll('.menubar a[href="https://www.wonkette.com/" + path + '"]'); if (link[0]) { if (link[0].classList) { link[0].classList.add(className); } else { link[0].className += ' ' + className; } }
// remove class from home-link var home = document.getElementsByClassName('home__item'); if (home[0]) { if (home[0].classList) { home[0].classList.remove(className); } else b)' + className.split(' ').join(' }
// search the closest parent and adding an active class on it too
var closestParent = getClosest(link[0], '.menubar_item-dropdown');
if (closestParent) { if (closestParent.classList) { closestParent.classList.add(className);
} else { closestParent.className += ' ' + className; } }
var socials = document.getElementsByClassName('social-links')[0]; var cloneSocials = socials.cloneNode(true);
var menu = document.getElementById("menubar"); var cloneMenu = menu.cloneNode(true);
var mobileMenu = document.getElementsByClassName('main-menu-wrapper')[0]; var beforeEl = document.getElementsByClassName('menu-global__search-form')[0];
mobileMenu.insertBefore(cloneSocials, beforeEl); mobileMenu.insertBefore(cloneMenu, beforeEl);
if (!document.body.classList.contains('logged-out-user')) { var existCondition = setInterval(function() { var userLink = document.querySelectorAll('.main-menu-item--my_page .link'); if (userLink.length) { clearInterval(existCondition); var membersLink = document.querySelectorAll('#membersLink'); var userUrl = userLink[0].href; Array.prototype.forEach.call(membersLink, function(el) { el.href = userUrl; });
if (document.querySelector('.main-menu-item--designer_editor')) { document.querySelector('.main-menu-wrapper').classList.add('user-admin'); } } }, 500); } else { var existCondition = setInterval(function() { var userLink = document.querySelector('.main-menu-item--login .link'); if (userLink) { clearInterval(existCondition); userLink.href="http://www.wonkette.com/core/users/email_login/"; } }, 500)
}
function copyValue(el) { var thisVal = el.options[el.selectedIndex].text; var closestForm = getClosest(el, 'form'); var paypalAmount = closestForm.nextSibling.querySelector('.paypal-amount'); paypalAmount.value = thisVal; }
document.addEventListener("scroll", createIdleScrollListener(() => { if (window.scrollY > 0) { document.body.classList.add('page-scrolled'); } else { document.body.classList.remove('page-scrolled'); } }));
function createIdleScrollListener(callback) { let ticking = false;
return function onScrollIdle() { if (ticking) { return; } ticking = true; requestAnimationFrame(() => { callback(); ticking = false; }); }; }
});
window.REBELMOUSE_ACTIVE_TASKS_QUEUE.push(function(){
window.addEventListener("scroll", () => { if(this.scrollY > 50 ) { document.querySelector(".rebelbar.rebelbar--fixed.skin-simple").style.display = 'none' } else document.querySelector(".rebelbar.rebelbar--fixed.skin-simple").style.display = 'block' });
});
window.REBELMOUSE_ACTIVE_TASKS_QUEUE.push(function(){
window.REBELMOUSE_STDLIB.loadExternalScript("https://checkout.stripe.com/checkout.js", function() {
if (!Element.prototype.matches) Element.prototype.matches = Element.prototype.msMatchesSelector || Element.prototype.webkitMatchesSelector;
if (!Element.prototype.closest) Element.prototype.closest = function(s) { var el = this; if (!document.documentElement.contains(el)) return null; do el.parentNode; while (el !== null && el.nodeType === 1); return null; };
function formsHandling() { var formDonate = document.querySelectorAll('.donation-form:not(.processed)');
formDonate.forEach(function(formEl) { var formEl = formEl;
formEl.classList.add("processed");
formEl.addEventListener("submit", function(event) { event.preventDefault(); });
var donationBtns = formEl.querySelectorAll('.donate-button');
donationBtns.forEach(function(el) { el.addEventListener("click", function(event) { event.preventDefault(); formProcessing(el) }); });
function formProcessing(el) { var btn = el; var payment = btn.getAttribute('data-payment'); var planType = formEl.querySelector('input[name="plan_type"]:checked').value; var checkedOption = formEl.querySelector('input[name="amount"]:checked'); var amount = checkedOption.value * 1; var amountOptional = checkedOption.getAttribute('data-amount'); var dataValue = checkedOption.getAttribute('data-value'); var action;
if ( formEl.contains(formEl.querySelector('.remove-me')) ) { formEl.querySelectorAll('.remove-me').forEach(function(el){ el.remove() }); }
if ( payment == "paypal" ) { formEl.action = "https://www.paypal.com/cgi-bin/webscr"; formEl.setAttribute('target', '_blank');
addHidden( 'currency_code', 'USD'); addHidden( 'cmd', ''); addHidden( 'return', "https://www.wonkette.com/st/Wonkettes_Hero"); addHidden( 'cancel_return', window.location.href);
if ( planType == "once" ) { checkedOption.value = dataValue; formEl.querySelector('input[name="cmd"]').value="_donations"; addHidden( 'business', 'rebecca@wonkette.com'); addHidden( 'item_name', 'Wonkette Donation'); addHidden( 'item_number', 'Just Once');
//add new params addHidden( 'a3', dataValue); addHidden( 'p3', 1); addHidden( 't3', 'D');
} else if ( planType == "monthly" ) { formEl.querySelector('input[name="cmd"]').value="_xclick-subscriptions"; addHidden( 'business', 'rebecca@wonkette.com'); addHidden( 'item_name', 'Wonkette Recurring Donation'); addHidden( 'item_number', 'wonkette_recurring');
//add new params addHidden( 'a3', dataValue); addHidden( 'p3', 1); addHidden( 't3', 'M'); addHidden( 'src', 1); addHidden( 'srt', 52); } formEl.submit(); } else if ( payment == "strip" ) { addHidden( 'entity_type', 1); addHidden( 'plan_type', 1); addHidden('entity_id', getSiteId() ); checkedOption.value = dataValue * 100;
if ( planType == "once" ) { formEl.action = "/core/payment/single_donation"; addHidden( 'plan_name', 'One Time Donation'); stripInit(amount, 'One Time Donation');
} else if ( planType == "monthly" ) { formEl.action = "/core/payment/recurring_donation"; addHidden( 'plan_name', 'Monthly Donation'); addHidden( 'plan', 'donation_' + amount); stripInit(amount, 'Monthly Donation'); }
}
} function addHidden(key, value) { // Create a hidden input element, and append it to the form: var input = document.createElement('input'); input.type="hidden"; input.name = key; input.value = value; input.className += 'remove-me'; formEl.appendChild(input); }
function stripInit(amount, description) { var token = function(res){ addHidden('stripeToken', res.id); addHidden('stripeEmail', res.email); formEl.submit(); };
if (amount) { StripeCheckout.open({ key: 'pk_live_7dJjNGbMgTkHfEasr9FsLcjF', // real //key: 'pk_test_zbMpaIyMyHJ7TLUEheC7q2iS', //test amount: amount, name: 'Wonkette', image: 'https://assets.rbl.ms/16950638/origin.png', description: description, panelLabel: 'Donate', token: token, locale: 'auto' }); } else { window.alert('Select donation amount first') } } });
function getSiteId() { var site_id = null; var inner = document.querySelector('html').innerHTML var str = inner.split('"site_id": '); if( str[1] != undefined ){ site_id = str[1].split(',')[0]; } return !isNaN(site_id) ? site_id : false; } }
formsHandling();
REBELMOUSE_STDLIB.createElementChangeListener(".show-more.js-expand:not(.processed)", (el) => { const keepReading = el; keepReading.classList.add("processed"); keepReading.addEventListener("click", function() { setTimeout(formsHandling, 500) }); });
});
});
window.REBELMOUSE_ACTIVE_TASKS_QUEUE.push(function(){
window.disqus_config = function () { this.page.identifier = "2657520685", this.page.url = "https://www.wonkette.com/ron-desantis-not-keen-on-covid-vaccine-for-florida-tots-what-if-it-turns-them-gay"; }; var disqusCt = document.createElement('div'), disqus_config; disqusCt.id = 'disqus_thread'; (function () d.body).appendChild(s); )();
function loadCountScript(callback) { var s = document.createElement('script'); s.type="text/javascript"; s.async = true; s.id = 'dsq-count-scr'; s.src = "//wonkettecom.disqus.com/count.js"; var x = document.getElementsByTagName('script')[0]; x.parentNode.insertBefore(s, x); s.onload = () => callback(s); document.head.append(s); } loadCountScript(script => { /*Add comment Button to all articles*/ REBELMOUSE_STDLIB.createElementChangeListener(".share-panel:not(.js--has-comments)", (el) => { let sharesPanel = el; sharesPanel.classList.add('js--has-comments'); if (sharesPanel.closest('.article__shares')) { let postId = window.REBELMOUSE_BOOTSTRAP_DATA.post.id, postURL = location.protocol + '//' + location.host + location.pathname; addButton(postURL, postId, sharesPanel); } else if (sharesPanel.closest('.widget')) { let thisPost = sharesPanel.closest('.widget'), postId = thisPost.getAttribute('elid'), postURL = thisPost.querySelector('.widget__headline-text').getAttribute('href'); addButton(postURL, postId, sharesPanel); } }); });
function addButton(url, id, el) { var commentBtn = document.createElement('span'); //commentBtn.href = url; commentBtn.classList.add('js--toggleDisqus'); commentBtn.classList.add('disqus-comment-count'); commentBtn.setAttribute('data-disqus-url', url); commentBtn.setAttribute('data-postid', id); //commentBtn.setAttribute('data-disqus-identifier', id); commentBtn.innerText="0"; el.append(commentBtn); DISQUSWIDGETS.getCount({ reset: true }); //console.log(url, id); } REBELMOUSE_STDLIB.createElementChangeListener(".js--toggleDisqus:not(.js--callDisqus-processed), .show-more:not(.js--callDisqus-processed)", (el) => { console.log('run callDisqus()'); var timeOut = 10; if (el.classList.contains("show-more")) { timeOut = 1000; } el.classList.add('js--callDisqus-processed') el.addEventListener('click', function () { setTimeout(function () { let t = el, thisPost = t.closest('article') || t.closest('.js-section-loader-feature-container'), postId = t.getAttribute('data-postid'), postURL = t.getAttribute('data-disqus-url'); document.querySelector('#disqus_thread') && document.querySelector('#disqus_thread').remove(); if (t.closest('.article__shares')) { let postWrap = document.querySelector('.mobile-post-wrapper'); postWrap.appendChild(disqusCt); } else { let afterEl = t.closest('.widget'); if (afterEl) { afterEl.parentNode.insertBefore(disqusCt, afterEl.nextElementSibling); } } console.log('DISQUS.reset', postId, postURL); DISQUS.reset({ reload: true, config: function () { this.page.identifier = postId; this.page.url = postURL; } }); if (t.classList.contains('js--toggleDisqus')) { let disqus = document.getElementById("disqus_thread"); // disqus.scrollIntoView(); } }, timeOut) }); }); // Hide hidden tip-jar, idk why window.REBELMOUSE_STDLIB.createElementChangeListener(".js-keep-reading:not(.js-processed)", (el) => { let keepReading = el; keepReading.classList.add('js-processed'); //keepReading.closest('.mb-2').nextElementSibling.style.display='none'; });
});

[ad_2]

Source link